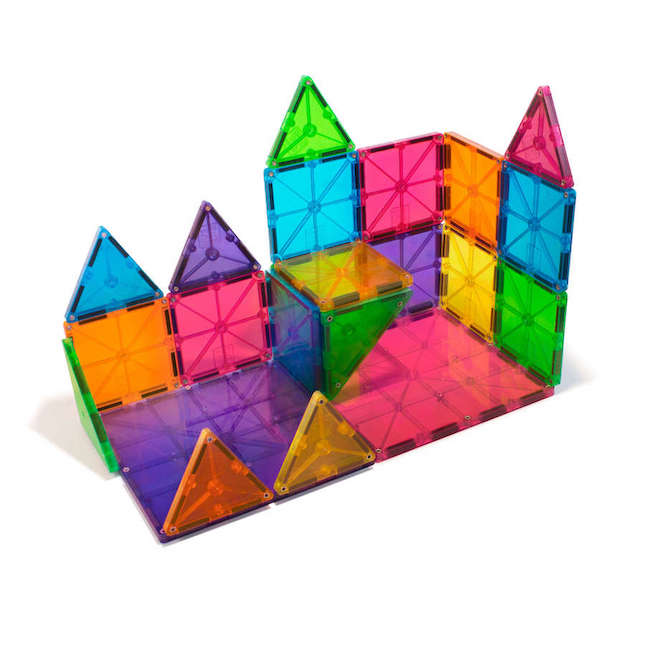 I am really excited about this review! I first heard about
Magna-Tiles
last year, when Munchkin was still too young for them. Now that he is approaching three, I thought they would make an awesome (early) birthday present. He started building with the magna-tiles as soon as he got them, (thanks Grandma and Grandpa!) and has played with them every day since. The tiles are little different than I expected, but they are amazing nonetheless!
Hard at work
We got the 100-piece set, and I think that was definitely the right decision. I don't think 32 pieces would be enough. The tiles are much bigger than I imagined, which makes it easy for little hands to build with them. There is a nice variety of shapes - large base plates, smaller squares, and three different types of triangles.
Munchkin has mostly been stacking the tiles and making flat designs, but he has also started to experiment with 3D shapes. In a few short days he has become much better at building and thinking of designs he wants to make.
It is extremely easy to manipulate the shapes, but there is definitely a learning curve as well. The structures built with magna-tiles are pretty delicate, and my toddler has been frustrated a few times about not being able to get something to stay the way he wants it. But I love that he is engaged and challenged while playing. There are endless possibilities, and I am definitely enjoying building as well! I can see these being well loved, but only time will tell if the magna-tiles will have longevity in this house.
I am storing our magna-tiles in a plain old sterilite container, and they are a breeze to clean up!
*This post contains affiliate links