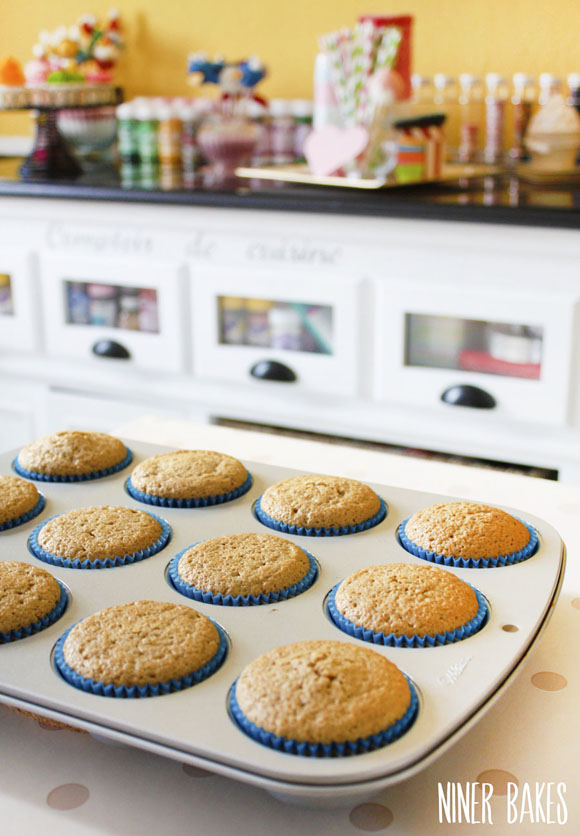 Photo courtesy of niner bakes
I adapted this recipe from the
niner bakes
blog. I was looking for a healthier cupcake recipe, and these came out delicious!
Ingredients:
1 1/4 cups of whole wheat or white whole wheat flour
1 1/4 tsp baking powder
1/2 tsp baking soda
1/2 teaspoon salt
2 eggs
3/4 cup sugar
2 tsp vanilla extract
1/2 a cup of applesauce + 2 tsp of oil
1/2 cup milk + 1/2 teaspoon of vinegar
sprinkles (optional)
I'm pretty much the laziest baker ever, so I didn't follow her steps. I mixed the milk and vinegar separately, and then combined all the other ingredients in a large mixing bowl. Then I added the milk mixture to the batter. I mixed everything by hand, and it worked out well. Munchkin helped out as well, so it was a great bonding activity for us. I baked them at 350 for 10-15 minutes.
They taste really good! Baby E is not a huge fan, but everyone else in the family is definitely enjoying them. I put some whipped cream and a candle on top when we sang Happy Birthday. Happy Birthday Baby E!