Finding toys for your little one is very different the second time around. I remember reading lots of Amazon reviews and carefully picking out Big Brother A's first toys. With baby E, it's more like he plays with whatever he can find on the floor or grab from his brother. There are a few toys however, which I think are great for this age that Baby E has been enjoying. He is not quite sitting yet, and I think a whole new world of toys opens up once a baby can sit and play on his own. I am including some toys for independent sitters on this list.
Bright Starts Sensory Giraffe
- This has been attached to Baby E's carseat for the last few months, and he has played with it a lot. I think he is mostly bored of it by now, but we got a lot of great use out of it. I love that it has so many different textures and chewable pieces for such a small toy.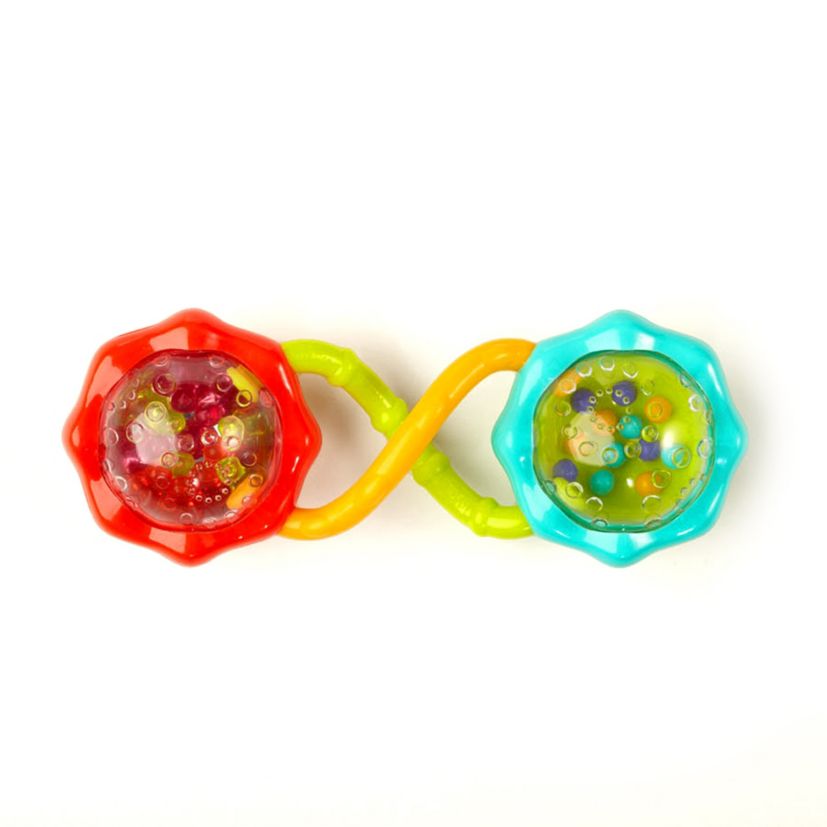 Bright Starts Rattle and Shake barbell Rattle
- This toy is very easy to hold and shake. An early favorite!
Baby Einstein Shapes and Numbers Discovery Cards
- Both Baby E and his older brother loved this toy from the beginning. I think it's a combination of the crinkly sound the pages make, and the great teething options.
I love Playskool
toys for older infants and younger toddlers. They have a lot of great choices, and I have found their toys to have a lot of longevity. Some of our favorites are:
Playskool Busy Poppin Pals
- This is a classic toy that you will find in every waiting room, and kids love it. E will speed-scoot on his stomach to get this toy, and is working hard to figure out how it works.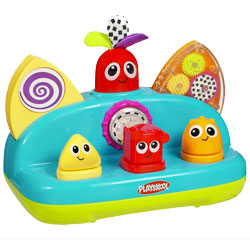 Playskool Press n Pop Shapes
- Another variation on the pop up toy, baby E can already push the buttons on this one and observe the cool effects. (I think he is mostly pressing them by accident at this point, but he still enjoys it) As a bonus, the shape pieces come out and act as great shakers. I like that this toy also works on matching of colors and shapes for older kids.
Playskool Explore and Grow Tumble n Twirl
- I LOVE this toy. It is one of my favorite toys ever. Young babies love to watch the balls spin around, and older babies love to take the balls in and out. Big Brother A will still pull this out from time to time.
Infantino Activity Triangle
- This toy has not quite lived up to my expectations, but Baby E is interested in this toy and all of its moving parts.
Any type of ball - Baby E loves all types of balls, but he gets very frustrated when they keep rolling away from him. He specifically loves the small plastic balls that you find in any ball pit.
Really though, Baby E would trade in all his toys to play with whatever crumbs or piece of trash he finds on the floor...